No code AI solutions which just work!
Single platform to seamlessly implement AI inside your apps or on the edge
Get a demo
Our Offerings
Loopr offers a no-code SaaS platform to adopt pre-built and end-to-end AI solutions, within days, at no up-front cost.
Key Challenges in AI Adoption

01
AI Development is complex
Tedious development process which requires collecting large data sets, data labeling, model development, training and hyper-tuning

02
Demands time and cost investments
Hire in-house data scientists and engineers or outsource to software consulting vendors

03
Unsolved problems for traditional industries
Despite a strong willingness, traditional industries like manufacturing and aerospace struggle to adopt AI automation
The Loopr Advantage

Self Service
Al store of no code solutions which can be leveraged and monitored without data science or engineering expertise

Fast
Get started with accurate predictions and results within hours or days

Pay-as-you-go
No up-front cost and SaaS style consumption-based pricing. Attractive, cost-effective and low risk proposition for businesses

Edge & IoT Ready
Deploy AI solutions to IoT devices of your choice.

Cross Function
Horizontal platform with reusable AI solutions across different industries and functions

Secure
Flexibility to keep data on public cloud for ease of access or on your premise for maximum security.
Use Cases
Resolve complex problems with AI-powered processes and innovative machine learning.
01
Defect Detection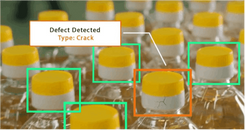 Detect quality issues faster, cheaper and at a pixel granularity in products
1 / 4
Breaking the Labels
Loopr's Data Annotation team is empowered by women from disadvantaged backgrounds. Our proud partners in the data labelling processes, these women are helping businesses of all sizes to grow using intelligent automation.
Know More