Products
Loopr AI Store
No code, ready to use AI solutions which just work!
Get a demo

No Prior expertise needed
No data science expertise or collecting large data sets

Pay-as-you-go
Consumption based pricing. No upfront cost.

Reduce adoption time
Cut down adoption time from months to few hours or days
Plug & play micro-apps
01
Defect Detection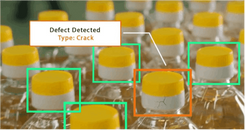 Detect quality issues faster, cheaper and at a pixel granularity in products
1 / 3
Why Loopr AI Store

Self-service
Reduced deployment time by using pre-trained models created by our industry expert ML team

Fast
Get started and generate accurate predictions and results within few hours

Cost-effective
No up-front cost and consumption-based pricing model so you only pay for what you use. No more writing large checks in advance, for software which will be delivered after months

Secure
Chose to keep your data on premise or in your enterprise private cloud
Loopr across Industries
How we are helping businesses transform themselves across different fields and various use-cases.